Read Me USB (2010)

Awards:
Winner of
iF International Design
Concept Award in 2010. iF Design Award is one of the top three international design competitions.
Selected Press:
The project has been reviewed by major press in South Korea.
Hankook Ilbo
Yeonhap News
Saekye Ilbo
Credits:
Collaborator - Hui Yin
Instructor - Younggyu Yoo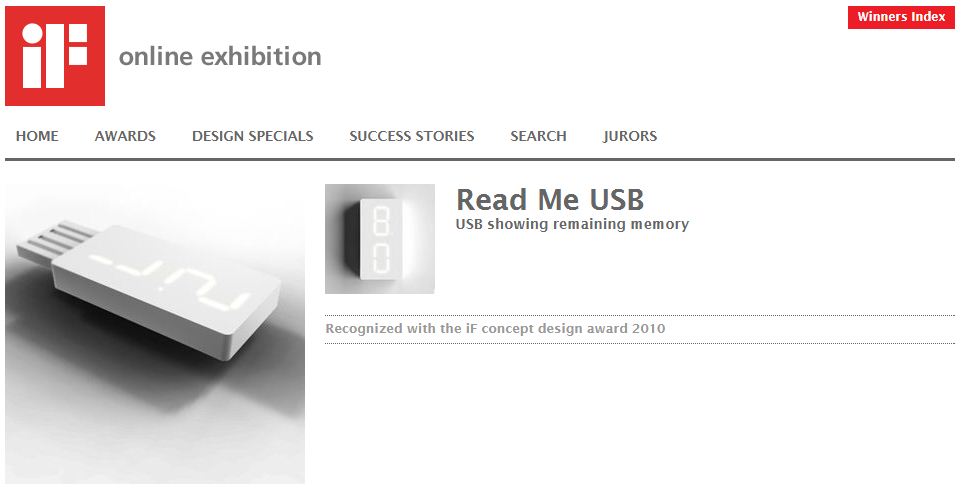 When we use USBs, we always have to check whether we have enough memory left for further usage. So we have to go through the usual process: connect the USB to the computer, open the folder, and check the amount of memory left. This is obviously a very bothersome process, and is even impossible go through when we do not have a computer beside us. "Read Me USB" will help you solve these problems. "Read Me USB" allows you to view the remaining memory on-the-go. When you gently press the body, the '7 segment LED' lights up visually and tells you the remaining memory. "Read Me USB" LED is always on when the USB is connected to the main computer.
Jury
Carl Liu | Idea Dao Design | Shanghai, China
Gustav Hofmann | Leiter Interface Design, Volkswagen AG | Wolfsburg, Germany
Hongpyo Kim | Samsung Electronics Co, LTD | Milan, Italy
James Auger | Royal College of Art | London, UK
Kathryn Best | INHolland University | Rotterdam, The Netherlands
Peter Thonet | THONET GmbH | Frankenberg/Eder, Germany
Poster
Prototype