<Invisible and Existent>: A book about my Invisible Sculptures series and the exhibition + associated programs

Published by Clayarch Museum on 09/30/2021
Language: English & Korean
Limited Edition
To purchase the book,
- South Korea:
Naver Store
- Outside Korea:
Inquiry Form
<Invisible and Existent / 시시각각;잊다있다> is a book about Yeseul Song's
Invisible Sculptures
and her solo exhibition + public programs curated by Jiyoun Jeong. This book, published by the Clayarch Museum in South Korea, includes documentation of the exhibition of Song's
Invisible Sculptures
, photography of each work and descriptions, sketches, products of associated public educational programs that happened alongside the show, and a number of essays and reviews by art critics about the work and the show.
The
Invisible Sculptures
series is an experimental work that combines art and technology, with a strong element of community building and participation. By decentering visuality—the dominant characteristic of artwork traditionally displayed in museums and galleries—the work opens up the possibility of engaging other human senses, while creating a possibility for disabled bodies to find space inside museums. The limited edition book is the first comprehensive archive of the work, and is both in English and Korean. Parts of the book use a technique of overlaying images using translucent vellum, like paper Augmented Reality.
The book is a limited edition. If you want to buy the book,
South Korea 책 상세정보 및 구매:
Naver Store
Outside Korea:
Fill Out This Form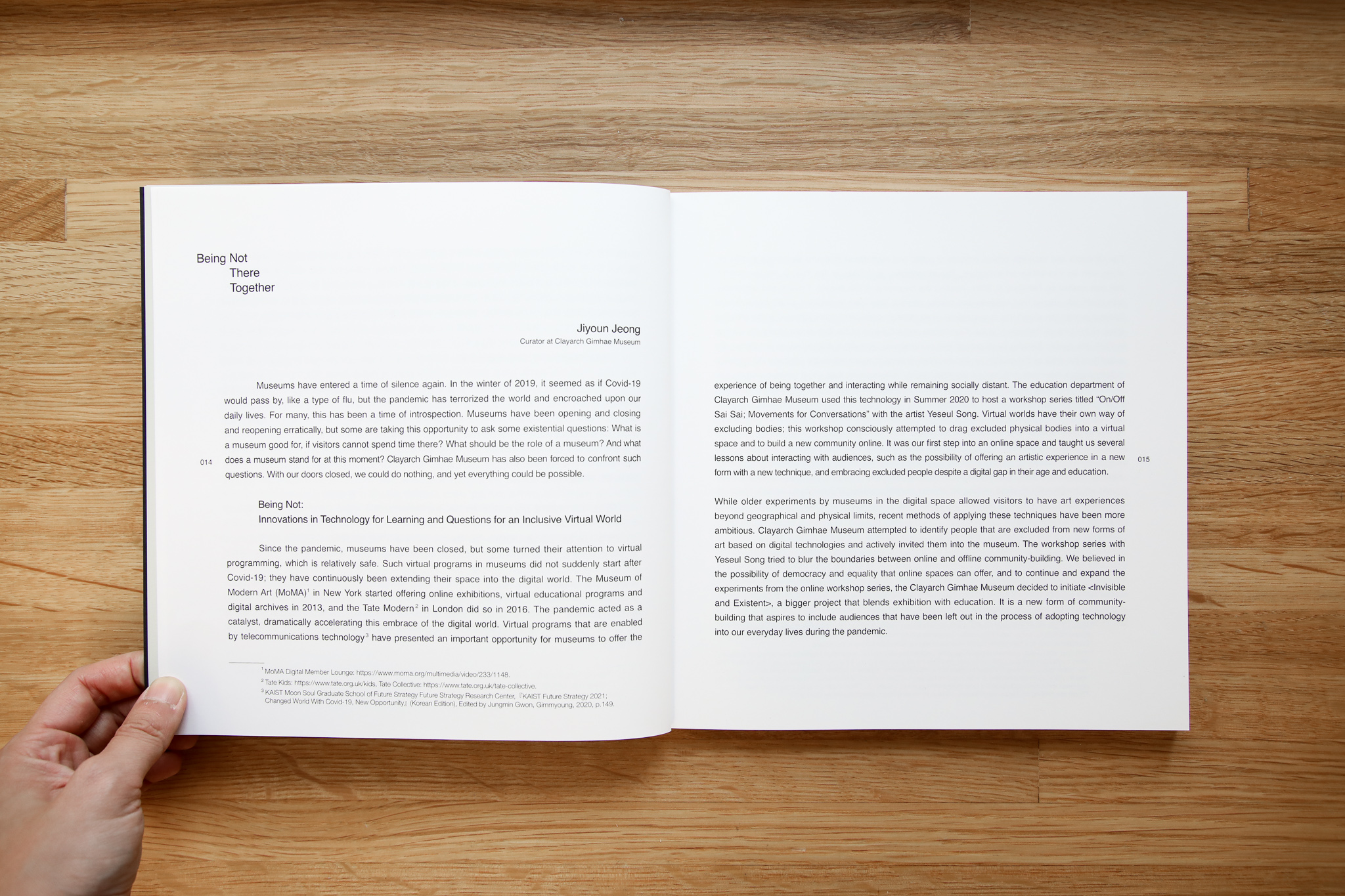 ISBN

979-11-90401-32-6


Credits

Publisher
: Clayarch Museum
Editors
: Jiyoun Jeong (Curator, Clayarch Museum) and Jeongyoon Choi (Educator, Clayarch Museum)
Essays and Reviews
: Kyoo-Sik Ahn (Director, Clayarch Museum), Jiyoun Jeong, Junghyun Kim (Art Critic), Rahel Aima (Art Critic)
Photographer
: Seungyong Jeong @Aing Studio
Designer
: Sungik Jo @
Grapin
Full credits are on the last page of the book.